A central finance and funding agency in Indonesia recently faced a roadblock in its endeavour to connect with banks, businesses and its consumers across the vast archipelago of Indonesia. Centralizing all its workloads in data centres in Jakarta was unfeasible; it also promised to create massive bandwidth bottlenecks.
The Internet – and bandwidth availability – have become essential services; without them, businesses and government agencies cannot function. It's even more challenging in large and growing economies like Indonesia, which comprises 17,000 islands and 273 million people, the bulk of whom are just about coming online for work and play.
The only feasible option was to leverage the cloud.
"An organization of our scale needed a robust ICT infrastructure for our business. But our legacy systems were unable to cope with the rapid rise in demand across the vast geography. We needed a solution that could be available anywhere, anytime, and on any connected device. We also needed expertise to help us transition," the CIO said.
The agency assessed all the available solutions and finally picked the Google Kubernetes Engine (GKE) on Google Cloud. The agency's IT experts were satisfied that they would be able to start quickly with single-click clusters and scale up to 15,000 nodes. Apps development could be speeded up without sacrificing data and cybersecurity. They just needed an implementer to get them started.
That's where Cloud Kinetics came in. Cloud Kinetics set up a secure, high-speed infrastructure on the Google Cloud Platform (GCP) and optimized the agency's apps, workloads and processes on GKE. Security and budget were of critical importance.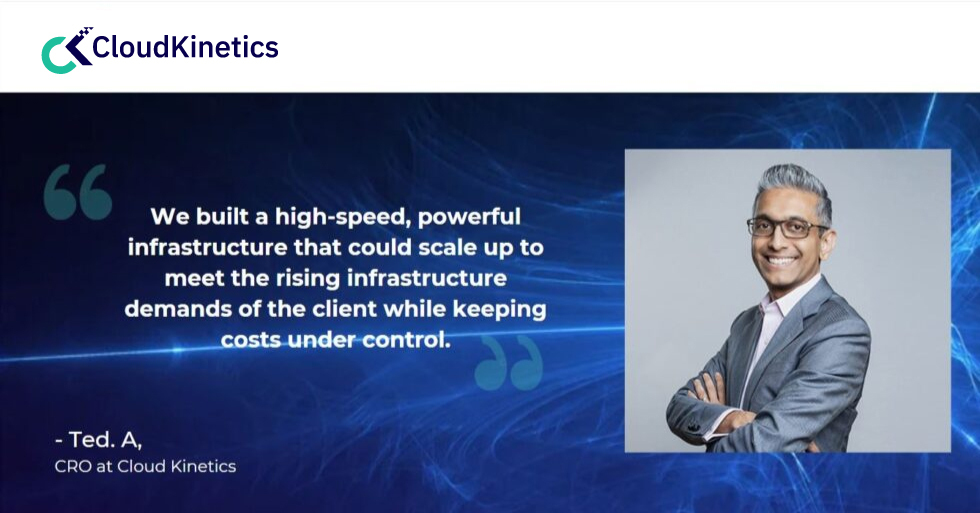 "We built a high-speed, powerful infrastructure that could scale up to meet the rising infrastructure demands of the client while keeping costs under control," Ted A, Cloud Kinetics' Chief Revenue Officer, said. "We helped host their applications, their database clusters, legacy workloads, tools, web content, backups, and static files."
Why GCP?
GCP allows businesses to run apps wherever they are needed. With the combined commitment of GCP and Cloud Kinetics to open source, multi-cloud and hybrid cloud platforms, vendor lock-in can be avoided. Companies can run their workloads on any cloud or environment. GCP open cloud solutions provide consistency between public and private clouds, helping businesses modernize and deploy apps faster.
GCP can be used to develop a variety of apps with support for stateful, serverless, and application accelerators.
"We could also use continuous integration and continuous deployment (CI/CD) tools to secure and speed up each stage of the app lifecycle. Application development can be speeded up without sacrificing security," said Ted
Why Cloud Kinetics?
Cloud Kinetics is a premier GCP managed services provider (MSP). The Cloud Kinetics team in Indonesia, and outside, has the capabilities, the certifications, and the talent to migrate, manage and maintain a range of services and solutions for the funding agency.
The Indonesian market: View forward
Indonesia is the world's fourth most populous country with a huge population of Internet users. It is a hot spot for global tech companies keen to get into one of Asia's fastest-growing data markets. The country's trend toward data localization is a major draw. Google has been offering services such as data storage, security and big data analytics to institutional and individual customers in Indonesia using data centres of local partners. The shift now gives customers faster service, which end-users like banks can use to serve its customers.