Introducing you to VMware Cloud on AWS
Cloud for everyone! Cloud Kinetics brings the benefits of cloud to everyone regardless of the size of your IT footprint. Finally, here is a cost effective opportunity to move the VMware install base to the VMware cloud. If you are already a VMware user, this is the perfect opportunity to move your VMware workloads from on-prem to VMC, which is the new & novel VMware on AWS Cloud.
Cloud Kinetics provides Cloud to Business of all sizes in ASEAN. With the new Cloud Kinetics Cloud for Everyone Managed Service powered by VMware Cloud on AWS, business of all sizes can consume cloud as it makes sense to their business needs. From the smallest workloads to the largest enterprise platforms, Cloud Kinetics delivers a cloud service that aligns to your business.
We're proud to be the first platform-ready AWS MSP in this region to offer VMC for enterprises. We can help companies achieve up to 40% return on IT investments and return on efficiency by helping them migrate their VMware workloads to VMC. Haji Munshi, CEO, Cloud Kinetics
Let Cloud Kinetics Help You Garner the Benefits of VMC
Partner with Cloud Kinetics for increased innovation to enhanced availability
Increase Innovation
VMware workloads running on AWS have access to a broad and rich set of 200+ AWS services.
These include compute, database, analytics, IoT, AI/ML, security, and more.
Latency-sensitive apps hosted in VMware can directly access Aurora, Dynamo, or Redshift databases for petabyte-scale data analysis.
Latency-sensitive apps hosted in VMware can get secure access to low-cost S3 buckets, objects, and API functions.
Simplify Ops
Organizations can simplify their hybrid IT ops by using VMC foundation technologies.
These include vSphere, vSAN, NSX, and vCenter Server across their on-premises data centre environments and the AWS Cloud.
You can keep the same VMware provisioning, storage, and lifecycle policies you use today.
This means you can quickly move apps between their on-premises environments and AWS without having to purchase any new hardware, rewrite applications, or modify your ops.
Reduce Costs
VMC helps you optimize operating costs in a consistent and seamless hybrid IT environment.
There is no custom hardware to deploy in your on-premises environment.
You don't need to modify applications to shift to a hybrid cloud model.
These capabilities let you leverage all your existing investments to help save money.
Enhance Availability
VMC helps you accelerate migration of VMware vSphere-based workloads to the highly available and scalable AWS Cloud.
The service enables VMware-based workloads to run directly on the next-gen Nitro system-based Amazon EC2 bare metal infra.
These can be provisioned in a single-tenant, isolated Amazon VPC.
Take advantage of the scalability, availability, security, and global reach of the AWS Cloud.
Accelerate Cloud Migration
Simplify and accelerate the migration of mission-critical production workloads to the AWS Cloud.
You can do this at scale without having to convert or re-architect workloads.
VMC enables seamless bi-directional application migration with consistent policies.
It uses VMware vSphere vMotion between your on-premises data centre and the AWS Cloud.
Deliver DRaaS
VMC enables you to simplify, accelerate, and modernize your existing disaster recovery solutions.
Enhance existing VMware-based DR solutions with AWS Cloud-based DRaaS (Disaster Recovery as a Service) capabilities.
Combine proven VMware DR technologies such as VMware Site Recovery Manager (SRM) and vSphere
Replication with scalability, availability, speed, and cost benefits of the AWS Cloud.
DRaaS will help you reduce costs, simplify ops, and enhance disaster recovery and testing.
Extend Your Data Centre
Leverage the massive scalability and global presence of the AWS Cloud.
Rapidly, seamlessly, and cost-effectively meet your DC capacity and regional footprint needs.
Leverage AWS Direct Connect private network connectivity to extend your DC workloads.
Use the massive capacity of the AWS Cloud to meet any expansion needs of the business.
Modernize Your Apps
Leverage AWS services for integrated application modernization like Amazon S3.
Ideal for organizations looking to build new/next-gen applications.
You can use VMware's management and policy tools across on-premises and VMC.
Enjoy a unified and operationally consistent experience.
Why choose Cloud Kinetics to move VMware Cloud on AWS?
Cloud Kinetics offers large enterprises a unique combination of competencies to reduce complexity, control costs, increase agility and connect data silos on the AWS cloud.
Whether you need a Single-Tenancy or Multi-Tenancy, Cloud Kinetics can consult and/or implement it for you.
What Cloud Kinetics offers you
Validate VMware workloads on VMC on AWS.
Get a monthly TCO (Total Cost of Ownership) forecast.
Ensure clear and transparent billing every month.
Validate FSx/S3 integrations on VMC on AWS.
You don't need to pay for ESXi Nodes.
Pay for only what you use, whether for a single or multi-tenancy environment.
Get SDDC (Software-Defined Data Centre) and VMware CDS (Cloud Director Service) on tap.
Cloud Kinetics brings VMC on AWS Single-Tenancy
If you are a large enterprise and have a large on-premise footprint.
If you run specialized and high-compliance VMware workloads.
If you have specialized vROps (vRealize Operations) in a hybrid environment.
CK's expertise to "lift-&-shift" to AWS in a dedicated VMware environment.
Get a super cost-effective migration path.
Optimize TCO (total cost of ownership) vis-a-vis DC (data center) costs.
Cloud Kinetics brings VMC on AWS Multi-Tenancy
If you are an SME (small and medium enterprise) and have a small on-premise footprint.
There is no or minimum VMware workload or VMware vROps required to move to the cloud.
Leverage the benefits of large enterprises by moving to a VMC environment.
Get a super cost-effective migration path.
Use Cloud Kinetics' professional and reliable managed services expertise.
VMware Cloud on Intel® Architecture
VMware and Intel keep IT front-and-center in the quest for rapid digital business transformation, by providing IT organizations a clear path to digital transformation with consistent infrastructure and operations.
Intel and VMware's integrated technologies deliver chip-to-cloud PC management and security capabilities to support today's anywhere workforce.
VMware Cloud on AWS lets you choose from a wide variety of compute, memory, and storage options to "right size" your cloud instances to your particular workload.
The AWS EC2 i3.en instance featuring the 2nd Gen Intel® Xeon® Scalable processors deliver 4x the raw storage capacity at roughly half the cost per GB of storage per host compared to previous offerings, making them ideal for disaster recovery and other storage-demanding use cases.
The AWS EC2 i3.en instance runs with more compute cores and more memory, allowing you to host larger and more powerful VMs.
Selecting AWS EC2 i3.en instances allows you to add more vCPUs to achieve greater overall database performance per instance, benefit from more processing power that can handle more orders per minute.
VMware also has gen-to-gen compatibility with Intel processors – meaning it can run on older Intel processors up through the modern Intel Xeon Scalable processors to combine both performance benefits and cost savings – whether it is on-prem or in the cloud.
The combination of VMware Cloud Foundation and Intel Xeon processors lets organizations take advantage of familiar features such as vSphere vMotion for live migrations of VMs from on-prem to cloud.
In partnership with leading Cloud Service Providers such as AWS, these solutions make moving to a hybrid public cloud environment simpler to manage and more predictable while enabling the latest technology innovations.
Cloud Kinetics for VMware & AWS: Competencies
AWS and VMware certifications
Cloud Kinetics has garnered 166 AWS and VMware certifications, including:
VMware MSP (Managed Services Partner).
VMware Cloud on AWS Master Services Competency Partner.
VMware PSO (Professional Services Offerings) Partner.
AWS MSP (Managed Services Partner) and First in SEA on Ver 4.2-2001.
AWS VMC Captivate 2022 Program.
AWS Launch Partner for VMware CDS (Cloud Director Service).
AWS Featured Expert Delivery Partner.
AWS Migration Consulting Competency Partner.
AWS Storage Consulting Competency Partner.
AWS EC2 for Windows Server Delivery Partner.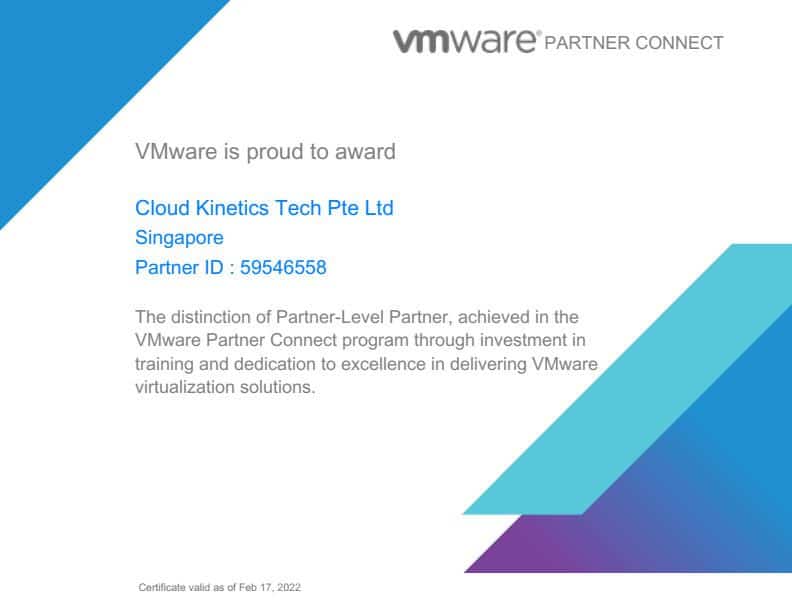 Why VMware and AWS?
Why VMware
You can build new cloud-native apps and modernize existing apps.
You can run your infrastructure across any cloud.
Leverage the innovation and freedom of every cloud with the simplicity of one.
Accelerate current application ops with network and security virtualization.
Use it for WAN (Wide Area Networks) on data centres.
You have reliable cloud-intrinsic security at every layer.
You can deliver any app, on any cloud, anywhere.
Deliver apps from the core to the edge and cloud in a hybrid environment.
You have proven vSphere capabilities in your AWS cloud environment.
Extend your on-premises security, governance and operational policies.
Modernize vSphere workloads with Tanzu services.
Tanzu is a portfolio of managed Kubernetes services.
Extend the value of enterprise apps with 200+ AWS services.
You can access the services over a high bandwidth, low latency network.
Deploy existing or new applications in 18 global AWS regions.
Each with multiple levels of redundancy to minimize downtime.
Your data, apps and workloads will be protected during an infra outage.
Why AWS
You can extend your on-prem vSphere environments.
Use VMware SDDN (Software-Defined Data Center) running on Amazon EC2.
Enable your IT teams to seamlessly migrate and run vSphere workloads.
Modernize them with fully managed Tanzu services and native AWS services.
Reduce the time, cost and risk of migrating vSphere workloads to the cloud.
Use vMotion and HCX for seamless migration on public or hybrid clouds.
Migrate individual apps or entire DCs without conversions or downtime.
VMware Cloud on AWS won CRN's 2020 Products of The Year for Hybrid Cloud – Customer Demand subcategory.