When Ho Chi Minh City-based Topebox launched their innovative blockchain game My DeFi Pet and saw overnight success, it became clear that a traditional on-premise setup wouldn't be enough to handle the growing traffic and deliver the cracking user experience their company was known for.
With the global video games market poised to achieve a growth rate of 9.1% (CAGR) between 2022 and 2028, the online gaming industry has been buzzing. Topebox nailed the winning formula early on in the gaming world, with successes like Pocket Army, Sky Dancer: Free Falling, King Rival, Titan Hunters, Guns And Dungeons. But My DeFi Pet, which used blockchain technology, presented a challenge unlike before. The non-fungible token (NFT) game exploded in popularity globally, with its daily active users increasing five times within weeks of its launch.
Challenge: Balancing game popularity & performance
Ensuring a top-notch user experience and game performance has always been a priority at Topebox. As the company scaled its user base and employee headcount, they needed to better prepare for the next generation of gamers, who looked for more connections, greater identity freedom as well as increased control over their data and assets.
With users joining from countries as far apart as Brazil and the Philippines, an on-premise server could no longer deliver optimal performance for this volume of geographically distributed traffic.
Solution: The key is in the cloud, Google Cloud!
Topebox's performance and growth requirements were best served by moving to the Google Cloud Platform (GCP) with Cloud Kinetics' support. And Topebox was delighted by how quick and seamless it was – the company experienced nearly no downtime during the migration to GCP and the entire exercise took just a few hours!
Outcomes: Transforming the user experience with GCP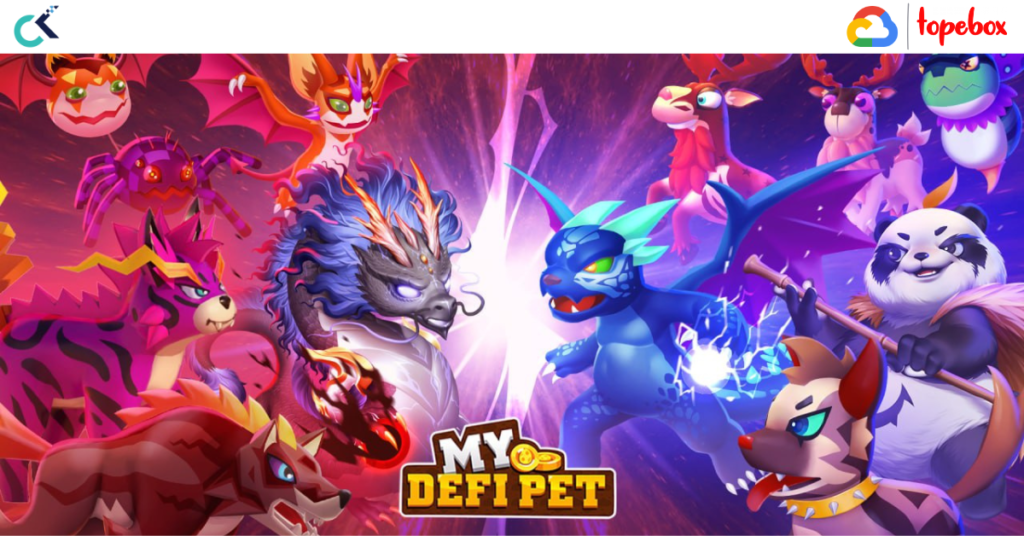 The wins of moving to the cloud were evident in more ways than one.
1. Data insights to drive cost optimization & performance
GCP also offered a data warehouse, which Topebox was able to leverage with Cloud Kinetics' help, gaining detailed player insights and analytics as a service.
"Cloud Kinetics brought a ton of experience and a team that knew which services were required and when," the Topebox team added. "We realized huge benefits from the relationship. The game's performance jumped by 80 percent. The remaining 20 percent benefit was cost optimization and beefing up backend ops. We couldn't have done this ourselves."
2. Low latency & smooth peak usage performance
At peak usage, Topebox has clocked 100k DAU and 20k CCU, and runs smoothly at these levels without any trouble.
The game loading time was reduced from 3 minutes to 15 seconds thanks to Cloud CDN.
The server response is in low latency (3-5ms).
3. Scalability & reliability
The ability to scale and the reliability in seconds help reduce costs for maintenance. These ensure that the gaming company doesn't miss any opportunities in the market, as it is able to quickly pivot, scale, and adapt. Using Cloud CDN, Cloud Storage, and Cloud Loadbalancing helped deploy new game versions globally in seconds with no downtime during upgrades. The backend uses GKE, ComputeEngine, with easy scale up/down ability, while the database uses Cloud Firestore, which also scales globally and has strong user-based security.
Moving to Google Cloud helped us deliver the best experience for our users. The speed of game loading and the smoothness of user interaction in-game are all incredible now. Cloud Kinetics was able to help reduce cost, support investigating incidents, and assist with choosing the appropriate technologies and implementations to ensure a seamless experience. Nam Nguyen, CTO, Topebox
The future: Partnering for growth
Topebox sees Google Cloud, with its open cloud solution and ease of use, playing a very important role in their infrastructure. And with the market growing only bigger, the gaming company recognizes the importance of having the right partner to deploy these solutions.
"We're exploring many other services of the GCP Ecosystem, and we think those will help us with the big titles we have planned in the near future as we scale up globally. We are considering Cloud Spanner and the ML for our AI and Bot in-game," Nam Nguyen says. Cloud Kinetics sees this partnership growing only stronger as they support Topebox in uncovering new opportunities and building a new generation of online games.