Cloud Kinetics demonstrates excellence in the areas of Multi-cloud/IT Infrastructure Automation, Secrets Management, Cloud Security and Modern Service Networking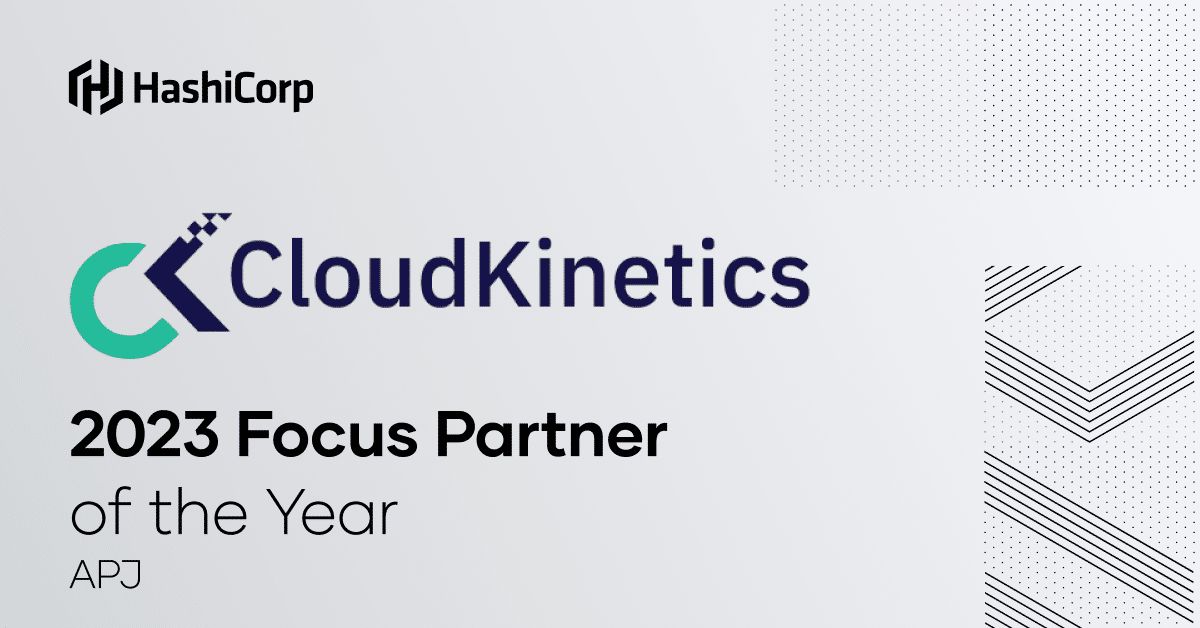 Singapore, 27 October 2023 – Cloud Kinetics, a leading cloud transformation partner headquartered in Asia, is thrilled to announce that it has received the 2023 HashiCorp APJ Focus Partner of the Year award.
Cloud Kinetics was recognized for enabling organizations across industries to operate seamlessly by streamlining their cloud infrastructure provisioning, security and networking to achieve unprecedented agility and operational efficiency with HashiCorp's advanced solutions.
As a HashiCorp Hyper-Specialized System Integrator Partner, Cloud Kinetics is one of the few partners in the region to hold Certified HashiCorp Implementation Partner (CHIP) certifications across HashiCorp's core products: Terraform, Vault and Consul, with capabilities spanning Infrastructure-as-Code, Cloud Security and Service Networking.
The HashiCorp Partner of the Year awards honor exceptional partners within the HashiCorp Partner Network for their enduring commitment to building integrations for the HashiCorp suite of multi-cloud infrastructure automation products, which are used by enterprises around the globe.
Thousands of companies use HashiCorp to provision, secure, connect, and run cloud infrastructure for their most important applications. Cloud Kinetics is a key ecosystem partner, and we are thrilled to recognize their contribution with the HashiCorp APJ Focus Partner of the Year. I am excited to continue our collaboration with Cloud Kinetics so that together, we can help our customers realize the full value of our combined solutions. Leon Jones, VP, Worldwide Partner Ecosystem, HashiCorp
The HashiCorp APJ Focus Partner of the Year award comes on the heels of Cloud Kinetics' recent recognition as the first partner in the ASEAN, South Asia and Oceania regions to earn the HashiCorp Infrastructure Competency. Cloud Kinetics' multi-cloud expertise and technical mastery of HashiCorp technologies have bolstered the infrastructure automation foundation of many organizations – a critical bedrock for modern enterprises seeking to scale and innovate.
We are thrilled to be named the HashiCorp APJ Focus Partner of the Year. This award is a great recognition of the work we are doing with HashiCorp to drive disruptive change for enterprises navigating the shifts in a multi-cloud world. We see our partnership as a critical force multiplier to address complex IT challenges and drive DevOps excellence for businesses of all sizes and industries, and look forward to more fruitful collaborations. Saleh M "Haji" Munshi, Group CEO, Cloud Kinetics
The recent wins mark a significant milestone in Cloud Kinetics' growth trajectory and stand as notable additions to the company's expanding portfolio of awards and competencies, including the AWS Rising Star Partner of the Year 2023, AWS DevOps Consulting Competency, as well as the IDG Channel Asia Cloud Innovation Partner award twice in a row. Building upon its achievements and customer success with multinational corporations, Cloud Kinetics will continue to help empower more small and medium-sized businesses and public sector organizations to harness automation as a strategic imperative to thrive in a digital-first era.
With a global presence in 8 countries, Cloud Kinetics is uniquely positioned to serve the dynamic needs of each local market. As part of its ongoing growth strategy, Cloud Kinetics will be expanding into Thailand and making further strides in Australia and the USA to better empower enterprise clients in the regions to accelerate their digital transformation journey.