Achieving the AWS Storage Competency Consulting Partner status differentiates Cloud Kinetics as an AWS Partner Network (APN) member that has demonstrated successful implementation of storage solutions and projects on AWS. AWS has set a high bar to achieve the Storage Competency for Consulting Partners and it reflects Cloud Kinetics' capability in possessing deep domain and consulting expertise to help enterprises adopt and deploy complex storage solutions in one or more core storage categories, including Backup & Recovery, Primary Storage, Archive, or Business Continuance/Disaster Recovery (BCDR).
Using AWS Backup, we provide a fully managed, policy-based backup solution, simplifying your backup management, enabling our customers to meet their business and regulatory backup compliance requirements. CK offers expertise in solutions that configure backup policies and monitor backup activity for AWS resources, such as Amazon EBS volumes, Amazon RDS databases, etc, and we leverage AWS S3 Glacier for durable and cost effective long term data backup. If your organization is interested in leveraging AWS to help manage the exponential volume, increasing cost and expanding complexity of data storage, we are here to help.
DATA STORAGE Management Framework:
Our team of Certified Cloud and Storage industry leading solutions architects, consultants and engineer staffs work closely with AWS and other data protection solution vendors (ie. NetApp, Cohesity, CommVault, Veeam, N2WS, Druva, MSP360) to provide best of breed end to end backup, DR and any case of data protection solutions to our customers and partners.
Building on the success of our hybrid cloud and data storage offering in the past 5 years, Cloud Kinetics now has established a data experienced storage practices to serve our customer around data storage request.
Data Storage Management Lifecycle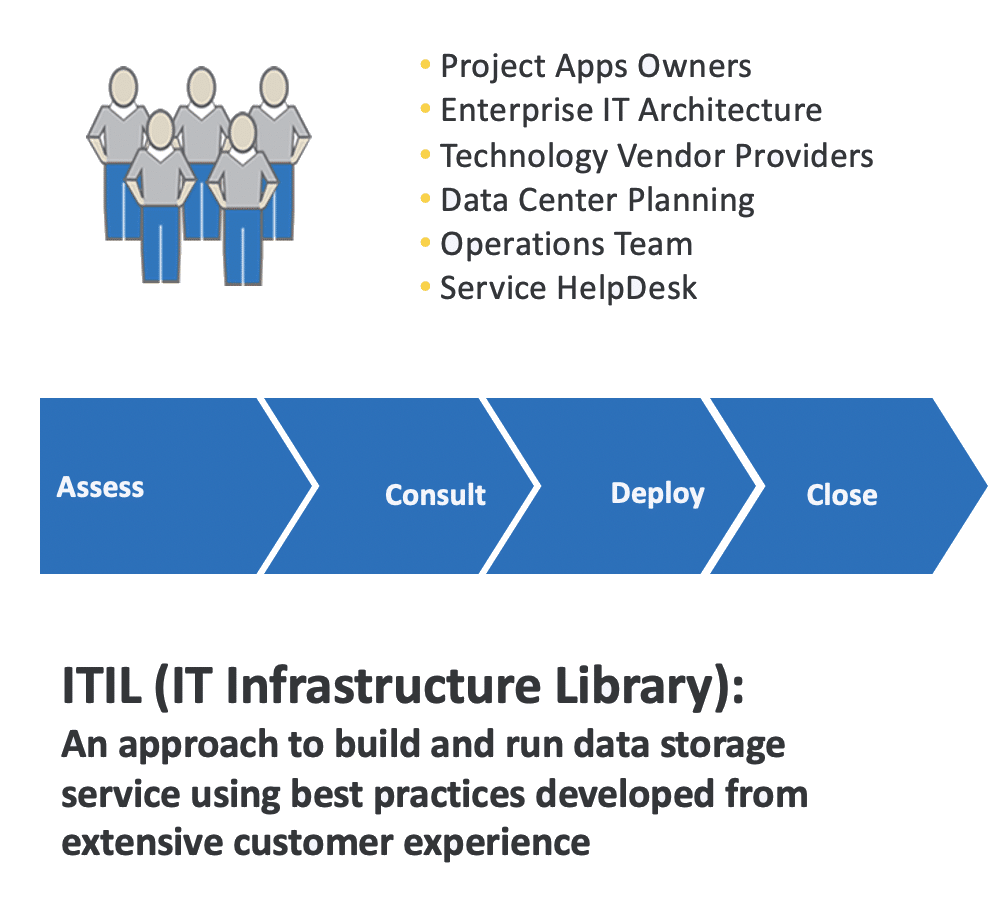 OFFERING:
Data Protection as a Service
VERITAS+AWS VTL+S3: Integrate no. Virtualization backup software with AWS VTL to backup customer on-premise data to AWS S3
NetApp AltaVault + S3: NetApp Altavault is able to integrate with most existing backup solution to enable it to move backup data AWS S3 and Glader
CloudBerry + S3: CloudBerry is cost effective backup and DR Solution to AWS for windows and virtualized environment
N2WS + S3: Veeam N2WS Solution is AWS EC2 native backup to S3 Solution
Disaster Recovery as a Service: We utilize CloudEndure to offer customer Draas to AWS for any customer environment- physical, Hyper-v, VMware and openstack
Hybride Backup as a service (VMC): Integrate with VMC on AWS and Cloud Storage to offer Hybride on AWS backup Solution
Storage as a Service: Provide different tier to meet storage I/O performance requirements.
Veeam Backup as a Service: provide Veeam managed as a services to simplify customer backup operation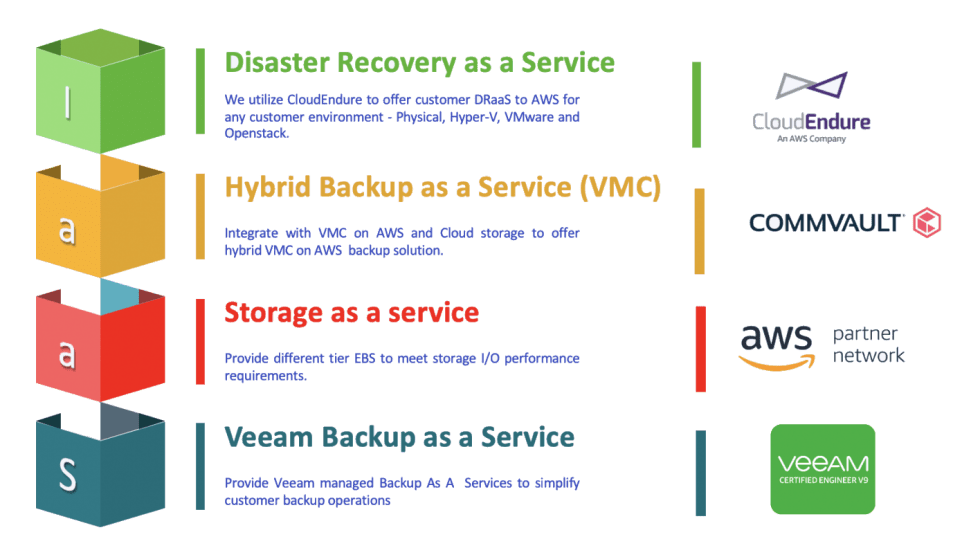 Software as a Service
Cloud Volume ONTAP for AWS: A Cloud Storage Management solution that delivers secure proven data management service for AWS, Provide protection, Visibility and control for your cloud based workload.
Disaster Recovery as a Service: Backup and replicate VM to AWS Druva Saas services with one click DR recovery Function
Archival as a service: Tiering 7 Years archival data to long term retention purpose
Backup as a services: Enterprise Scale on an open platform integrate with your existing backup software and public or private cloud storage provider of your choice
Assessment: This assessment is ideal for large enterprise multi-vendor environments. We can provide you with a comprehensive understanding of the performance, configuration, and capacity of your entire heterogeneous infrastructure.
Consulting: Rely on professional services for turnkey processes to elimination readblock and enable faster solution adoption.
Migration: smooth Your transformation with proven Methodologies and best practices to reduce risk and impact to your business
Managed Services: Trust Cloud Kinetics seasoned expertise to manage support and optimization your on-premises and Hybrid-Cloud workloads so You can deliver great business value.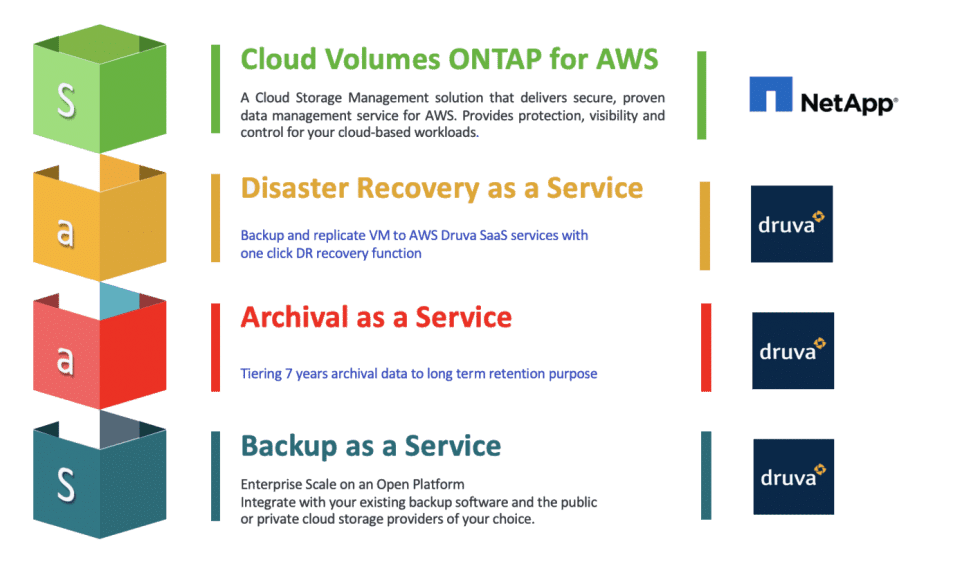 Success Stories:
HiLife: Building smarter living with Cloud Kinetics(InfoFabrica) and AWS
Digiworld accelerates business growth with AWS and Cloud Kinetics