In terms of public cloud adoption, Asia Pacific (APAC) region continues to surpass the growth rate in North America and Europe. According to a report on Singapore Cloud Market released by BCG, public cloud adoption in six key APAC markets – Australia, India, Singapore, Japan, Indonesia and South Korea – is growing at 25%, which is much faster as compared to US and Western Europe. The report also emphasizes that there is great potential for further growth in the coming years.
The report revealed that although each of these six markets are at different stages in the evolution of their use of the public cloud, they will experience a positive economic impact as businesses explore new revenue streams and improve productivity by operating applications over the public cloud. Public cloud adoption is expected to contribute about $450 Bn of GDP across these APAC markets between 2019 and 2023. It has the potential to create around 425,000 jobs and influence about 1.2 million additional jobs in key industries that drive the economy.
Singapore cloud market: A view
Compared to other countries in the region, Singapore is one of the most advanced public cloud markets. Investment into public cloud is expected to grow at a CAGR of 20% over the next five years, from US$1.5 billion in 2018 to about US$3.6 billion in 2023. This will account for 0.4% of the GDP and is one of the largest public-cloud-spending-to-GDP ratios of all six markets.
The growth in Singapore cloud market is propelled by Government initiatives and an active policy to promote use of public cloud for its systems. Industry sectors aggressively embracing cloud include Financial services, retailers, media companies and public sector.
Most large enterprises in Singapore cloud market are already using some form of cloud storage and are beginning to consider advanced use cases like AI and Machine Learning. Currently the Software-as-a-Service (SaaS) model has the largest share of the cloud market. However, with increasing interest in advanced applications, Platform-as-a-Service (PaaS) model is emerging as the fastest growing segment, expected to grow by 25% between now and 2023.
Industry adoption
Digital Native Businesses (DNBs) are heavily reliant on having a scalable and reliable technology infrastructure and most of them are born-in-cloud companies, making them the largest users of public cloud in the market. Public cloud has allowed these DNBs to operate in an agile fashion because of the comparatively low upfront costs and the infrastructure capability provided by the cloud service providers.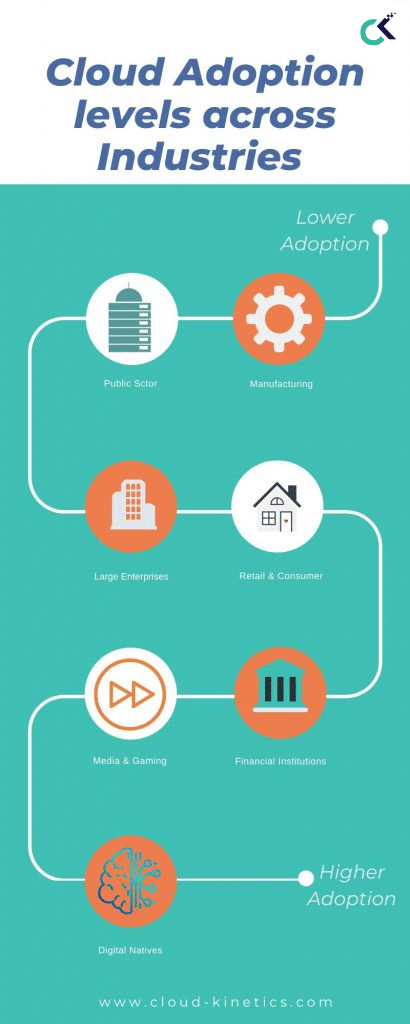 There is a considerable push for the government sector to adopt public cloud-enabled technologies in order to redesign the way the government operates. To drive the digital transformation and build the public sector's long-term capabilities, the Singapore government created two new agencies namely Government Technology Agency (GovTech) and Smart Nation and Digital Government Office (SNDGO). They also introduced a platform that enables government agencies to build and test new applications with shared software and infrastructure services. Also, the Infocomm Media Development Authority (IMDA) helps users clarify the security responsibilities of cloud service providers and sets standards for accountability and transparency.
Why public cloud?
Users of Public Cloud in Singapore have cited the following as the key advantages:
Higher team productivity
Collaborative tools such as document sharing apps, communication apps etc. are fostering greater team efficiency and allowing them to accomplish tasks effectively.
Faster time to market
Public cloud generally has lower launch costs and faster deployments when compared to on-premise architecture. This shortens the time to market considerably.
Data analytics
Advanced data analysis is key when designing new products and services for a targeted customer base in industries such as e-commerce, ride-sharing, and media content. Companies are using public cloud for running data analysis in real time allowing them to drive engagement as well as advertising revenues.
Flexibility and scalability
One of the main advantages of public cloud is the flexible scaling. As more and more companies use advanced technologies like AI and ML, the scalability and flexibility of cloud infrastructure becomes very relevant.
Challenges faced by cloud users
Despite all the benefits of using public cloud, there are a few challenges faced by the users:
Legacy migration costs and risks
For large enterprises, the risks involved in migrating their existing databases and legacy applications to cloud poses a key challenge.
Complexity of managing a multi-cloud environment
Companies having a wide range of applications deployed on cloud prefer to use the expertise of a variety of cloud providers rather than be locked in with one vendor. In such cases, managing the multi-cloud environment can be challenging. Companies are using third party Cloud Management Platform (CMPs) to manage this situation.
Resource limitations
Singapore is facing a shortage of public-cloud trained IT professionals to manage the cloud environments. Vendors are providing advanced trainings and hands-on sessions to allow teams to develop internal capabilities to understand the day-to-day aspects of running applications on the public cloud. Using a Certified Managed Services Provider like Cloud Kinetics is also a way to ease this challenge.
Impact of cloud on Singapore's economy
The overall cumulative impact from direct, indirect and induced sources between 2019 and 2023 is expected to be US$31 billion. Increased usage of public cloud will possibly create 22,000 direct jobs over the next five years. About 65% of these jobs will be in non-digital roles like sales, marketing, HR, finance etc. It is also expected to have an impact on another 21,000 indirect and induced jobs. A large proportion of these jobs will potentially be taken up by the existing workforce after their retraining and upskilling.
As a regional digital hub, Singapore has an important role to play in developing frameworks around cross-border data sharing, thereby influencing the further development of regional standards on public cloud utilization of cloud.